B 0 – 15 mm thick, Vibration Isolation Pad
Range of application:
No profile. Very high level consistency. Specifically for machines with low intrinsic rigidity.  Applications include: CNC Lathes, Cylindrical Grinders, Drilling machines, Granulators, Grinders, Machining Centers, Milling machines, Robots, Spinning Lathes, Spinning machines, Surface Grinders, Transfer Lines, Turning Centers.
Type: B 0
Load range: 72.5 to 290 psi (50-200 N/cm2)
Thickness: 0.59″ (15mm)
Coefficient of friction installed on industrial concrete floor: 0.6
90 Shore A Hardness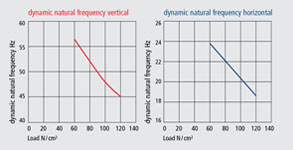 Dynamic Vertical and Horizontal Natural Frequencies for Bilz Type B 0 Vibration Isolation Pad