Isolation against Impact and Oscillation
Depending upon the static load, the natural frequency of the elements varies between 3 – 13 Hz in vertical direction. The ratio between vertical and horizontal natural frequency is 1 – 1.5. Maximum spring deflection during impulse load is approximately 0.59″ (15 mm).
Range of Application
Excellently suited for shock isolation of high speed stamping presses, turret punching machines, forging hammers, vibration welders, shakers, engine dynamometers (Dynos) and other machines with high dynamic forces. Passive vibration isolation of measuring and testing machines as well as high precision machine tools. Systems can also be supplied with an option of electronic or mechanical level control!
Assembly
The components are bolted to the machine by means of pre-drilled holes. It is not necessary to anchor the machine to the floor. The machine is placed on deflated air springs, which are then inflated to a maximum of 73 – 87 psi (5 – 6 bar) via a standard valve. To level the machine, air can either be released or added. The maximum height adjustment available is 0.39″ (10 mm).
Control of Air Pressure

Upon request, FAEBI® rubber air springs can be equipped with an air pressure monitor. This monitor will indicate if air pressure goes below the desired value.
Faebi Natural Frequencies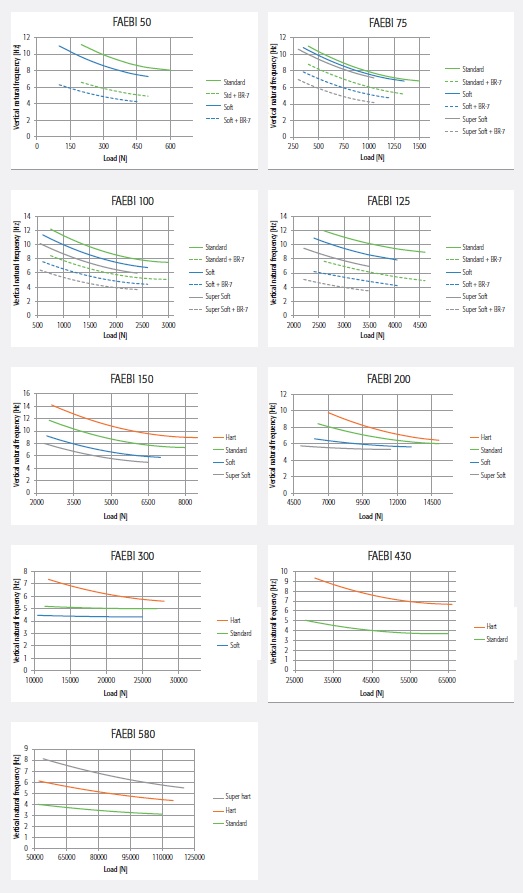 Important Notice:
The rubber air spring must be chosen in such a way as not to exceed the maximum load! Inflation and deflation may be carried out under pressure only! Screw must be screwed in manually, do not use any wrench! Subject to technical changes!
| | | | | | | | | |
| --- | --- | --- | --- | --- | --- | --- | --- | --- |
| Model | Load capacity per air spring (lbs) | Max. internal pressure (psi) | A (in) | ∅ (in) | H approx. working height (in) | D (in) | h (in) | M |
| FAEBI® 50 | 45 – 135 | 43 | 4.33 | 3.15 | 2.36 | 1.38 | 0.20 | M10 |
| FAEBI® 75 | 90 – 335 | 43 | 4.53 | 3.82 | 2.56 | 1.69 | 0.20 | M12 |
| FAEBI® 100 | 170 – 675 | 73 | 5.31 | 4.65 | 2.56 | 2.36 | 0.20 | M12 |
| FAEBI® 125 | 585 – 1035 | 80 | 6.50 | 5.51 | 3.54 | 2.60 | 0.20 | M16 |
| FAEBI® 150 | 560 – 1800 | 87 | 7.87 | 6.69 | 3.54 | 3.15 | 0.31 | M16 |
| FAEBI® 200 | 1400 – 3375 | 87 | 10.24 | 9.29 | 3.54 | 5.12 | 0.31 | M16 |
| FAEBI® 300 | 2585 – 7650 | 87 | 14.57 | 13.39 | 3.54 | 7.87 | 0.31 | M20 |
| FAEBI® 430 | 6185 – 14,610 | 87 | 19.69 | 18.90 | 3.54 | 12.40 | 0.31 | M20 |
| FAEBI® 580 | 11,575 – 28,100 | 87 | 26.77 | 25.59 | 3.90 | 14.96 | 0.55 | M24 |
| | | | | | | | | |
| --- | --- | --- | --- | --- | --- | --- | --- | --- |
| Model | Load capacity per air spring (N) | Max. internal pressure (bar) | A (mm) | ∅ (mm) | H approx. working height (mm) | D (mm) | h (mm) | M |
| FAEBI 50 | 200 – 600 | 3 | 110 | 80 | 60 | 35 | 5 | M10 |
| FAEBI 75 |   400 – 1 500 | 3 | 115 | 97 | 65 | 43 | 5 | M12 |
| FAEBI 100 |   750 – 3 000 | 5 | 135 | 118 | 65 | 60 | 5 | M12 |
| FAEBI 125 | 2 600 – 4 600 | 5.5 | 165 | 140 | 90 | 66 | 5 | M16 |
| FAEBI 150 | 2 500 – 8 000 | 6 | 200 | 170 | 90 | 80 | 8 | M16 |
| FAEBI 200 |   6 250 – 15 000 | 6 | 260 | 236 | 90 | 130 | 8 | M16 |
| FAEBI 300 | 11 500 – 34 000 | 6 | 370 | 340 | 90 | 200 | 8 | M20 |
| FAEBI 430 | 27 500 – 65 000 | 6 | 500 | 480 | 90 | 315 | 8 | M20 |
| FAEBI 580 | 51 500 – 125 000 | 6 | 680 | 650 | 99 | 380 | 14 | M24 |
---